To displace the monotony and boringness of past seasons, the newest wedding dress show will be more romantic and fantastic. The use of different colors will make the fashion runway more colorful and vivacious. Recently, a lot of designers like using feathers, paillettes and embroideries made of gold strings to attract people's attention. This trend promotes the style of wedding gowns a lot.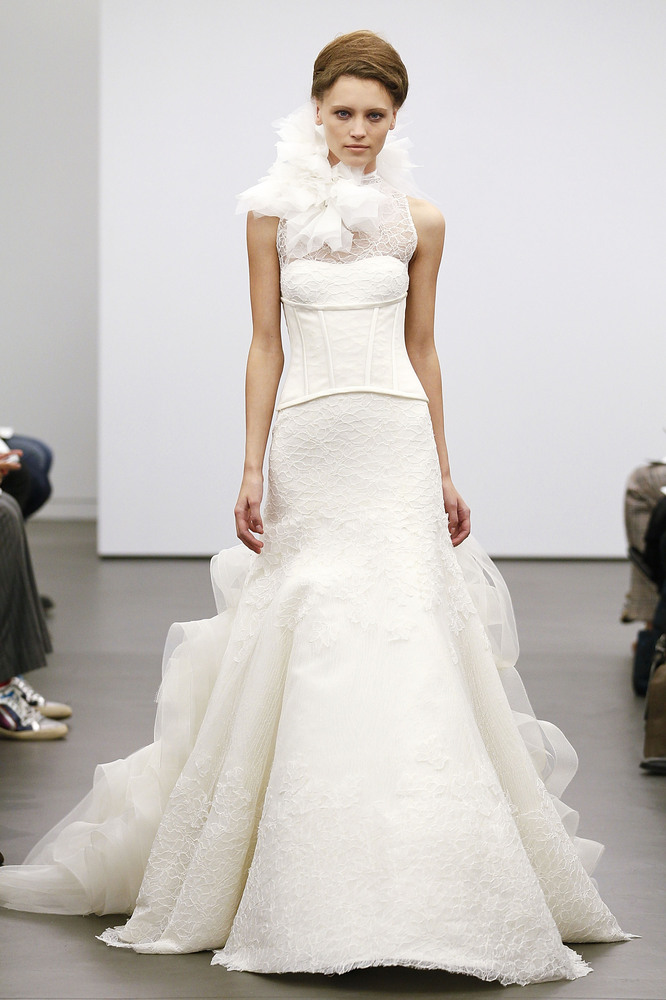 Maybe because of the new relationship between Vera Wang and her young boyfriend, the main color of her new designed wedding dresses changes from black and red back to white. The style of the wedding dresses is very pure. With lace ornaments decorating the details, the dress is full of the romantic fancies of girls who are in relationships. As there will not be many things to do with the lily-white wedding dresses, Vera Wang used the overlapping yarn from the neck to the tail of the dress. At the neck part, Vera designed a beautiful white flower with the overlapping yarn. Using a lot of overlapping yarns at the tail makes the dress look as light as cloud and flog. The combination of yarn and the lace makes wedding dresses romantic and stereo.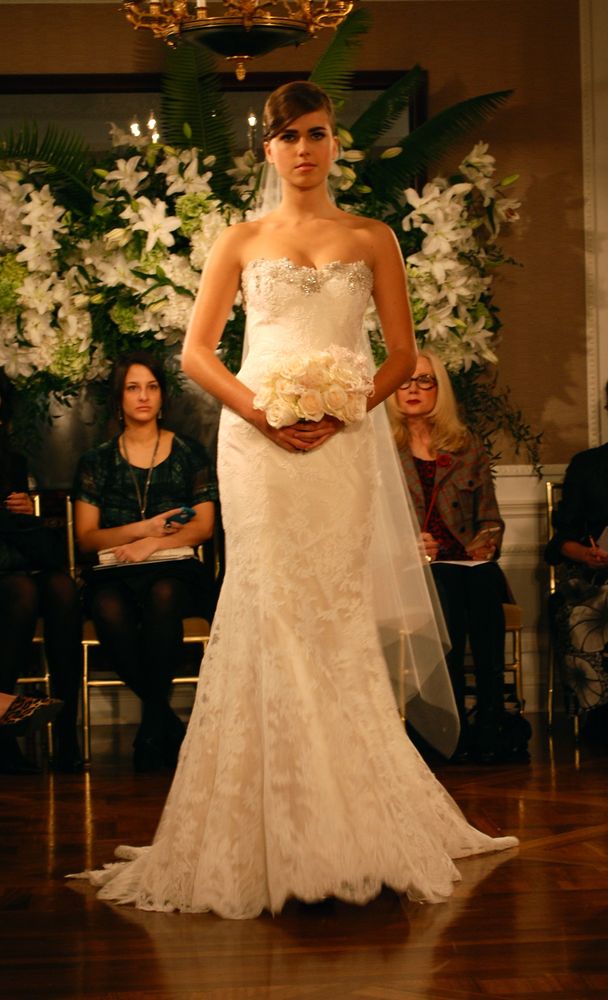 The overlapping yarn can be found everywhere in the new series of wedding dresses designed by Marcheas. This genius designer gets her inspiration from the Bulgarian rose. She makes a lot of petals with overlapping yarn and put the petals all over the wedding dress. The bride will become a romantic and fantastic goddess of rose in this wedding dress. With the rose and mermaid elements under the yarn, Marcheas built a beautiful dream of bride for us.
Different from the vivacious and naive dream of bride above, Reem Acra built a luxury dream of the golden ages for us. In order to make wedding dresses look luxury, Reem Acra uses munificent overlapping yarn in designing the mantilla and the tail. More retro details can be found on the dress: the fluffy feathers, the paillettes and the V-neck. What catches the most attention is the embroideries made of gold strings in geometries. These embroideries can show the sexiness and mystery of female. This detail sparkles the audiences' eyes on the fashion show. These delicate embroideries make the yarn look more touching and charming. It brings us back to the elegant and luxury gold ages.


Besides these smart designs, falbala is the other hottest element this season. The tail with the falbala at the bottom, the paillettes like the falling star, the delicate crystal ornaments, the beautiful lace and the small skirt will all keep the romantic and elegant qualities of wedding dresses. There are thousands brides everyday on the earth and every woman want to be the most beautiful one. A smart choice of wedding dress is the most important. Let the overlapping yarn help you to become the queen of all the brides. We wish you are the happiest one too!