I believe that it is extremely difficult for every bride-to-be to find out her perfect wedding dress. They must consider a lot. For example, a perfect wedding dress must be able to make the bride to be the most beautiful woman or the focus at the wedding ceremony, and, it should be one hundred percent fit to the sacred atmosphere of wedding. Considering that wedding may be held in different places, so find your right wedding dress that can accord with the wedding places well is very important.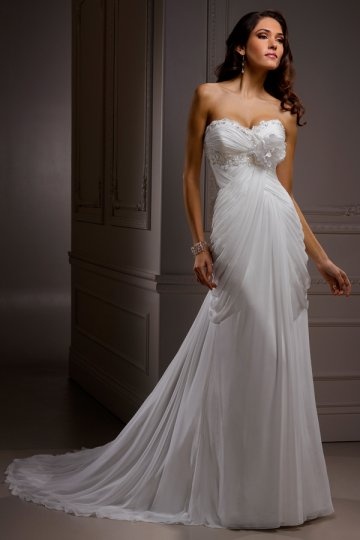 As we can see from the picture above, this is 2012 ruched beading sweetheart satin & lace A-line chapel train wedding dress. If you are going to hold your hymeneal in the auditorium, this one may be a good choice. Simple and self-cultivation design shows women's graceful figure adequately. An appropriate length of trail can bring out the elegant and noble temperament of a woman. As a matter of fact, this wedding dress is a traditional one. In the past, people always held their wedding in the chapel, and the brides would wear this kind of wedding dress which could better blend in the solemn atmosphere of chapel.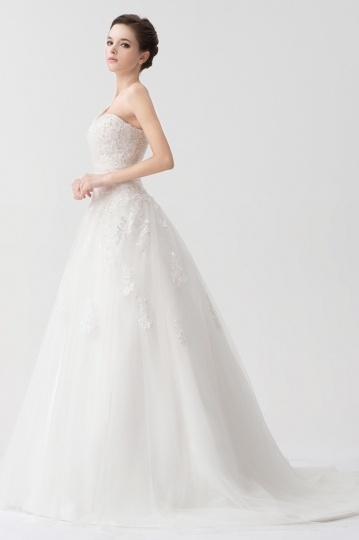 A lawn wedding is rich of natural flavor. And it is more flexible in the form of holding. So in consideration of the convenience of activities, Tea-length Wedding Dress is supposed to be chosen. And this ruching sweetheart short chiffon A-line wedding dress is classic and timeless, which can be worn in the garden or outdoor perfectly.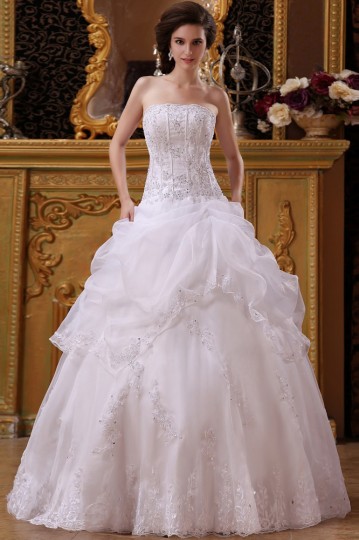 Starred hotel has luxury banquet hall, which gives us a feeling of magnificence. Thus, you need one kind of wedding dress to emphasize the grand feeling. This 2012 ruffle strapless lace and tulle A-line cathedral wedding dress is princess style. It has richly-layered bouffant skirt, which makes you the focus in such a gorgeous hotel.
Compared with starred hotel, restaurant is small but delicate. When selecting a wedding dress, this 2012 ruching pleats spaghetti straps chiffon ivory column wedding dress may be a nice choice. Exquisite detail design can bring out a bride's inner temperament. Soft chiffon material also emphasizes women's beautiful curve. This style of wedding dress is suitable for restaurant which has limited space.
All in all, we can see that a good wedding dress must be able to fit for the ceremony atmosphere but not merely just take the beauty into account. Therefore, a smart bride should find out her perfect wedding dress according to different environment.