This short adventuresome, yet very sophisticated wedding dress is a sweeping look for tall brides, who are worried about looking a little too tall. As you can see for yourself, this dress is tucked and nipped in all the right places. Not only does this dress help to accent all the good parts that makes you you, it is effective in concealing any body parts, you might not want to be showcased on your big day. If you are by chance worried about something not looking right in a particular dress or fabric, choosing a dress like this, would be the perfect dress for you. Notice how the neckline on this dress, helps to showcase this models sexy body.
As many of you thin beauties already know, sometimes people can be harsh on skinning girls, for not having enough meat on their bones. Big girls have their worries too, and sometimes, there are certain body parts that shouldn't be showcased on any lady's wedding day. Romona Keveza uses silk taffeta here to make this dress. A real smart decision for any bride who wants a fabric that will stay in place. However, it's not only the choice of Romona's fabric here, it is also her exact placement of the delicate re-embroidered alecon-lace appliqués. They assist in accentuating the perfect fit.
Both of the materials used on this lovely gown, are slightly thicker fabrics than something made of jersey knit, raw silk, or crepe. However, that doesn't stop these gorgeous materials from appearing to be light and airy. Silk taffeta accentuated in re-embroidered alecon lace, is much more forgiving, than let's say materials like crepe and Chantilly lace. Crepe has a tendency to cling to the body, as does Chantilly lace. If this was a plus size bride, this dress would not help conceal the bride's flesh rolls, because crepe will lay too flat and cling to a plus-size girl's flesh. Just like a cotton sock will cling to a pant leg, when there is too much static electricity. Materials that don't have any body to them, like Crepe fabric, won't be very forgiving laying across any smaller brides, prominent bony structures such as; collar and shoulder bones. It will want to cup-in at dips and folds, and it doesn't not fair well if alterations need to be made.
Helps conceal: Shoulder blades, collar bones, small chest sizes, shoulders, elbows, and long arms.
Related short wedding dress: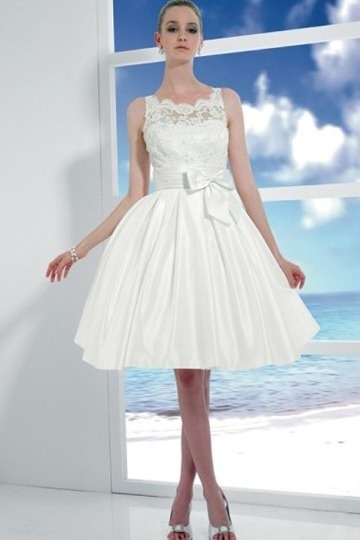 Read more at http://intimatevolution.hubpages.com/hub/Flattering-Wedding-Dresses-for-Skinny-Women