Buying wedding dress is part of the fulfillment of long cherished dream of getting married.  Marriage is one of the most joyful moments in every human beings life. People spend lot of time for the preparation of wedding. After creating the required funds for the wedding, then step by step plans need to be crafted out to conduct the wedding function in a systematic way. The plans need to be drafted properly. Create a check box to make sure every items are double checked to make sure that all function related to the wedding function goes smoothly.

Everybody knows wedding dress is the most important element in a wedding function. It is also equally important to have wedding accessories. Care need to be taken to have matching wedding accessories that goes along the wedding dress. The accessories must complement with location of the wedding as well.  The hair style that is apt for a wedding function conducting in a wedding hall won't be suitable for a beach wedding.  A flowing waves hair styles with flowers will be ideally suitable for beach wedding rather than a veil on the hair. As heavy wind can be expected in the beach, veils will be uncomfortable.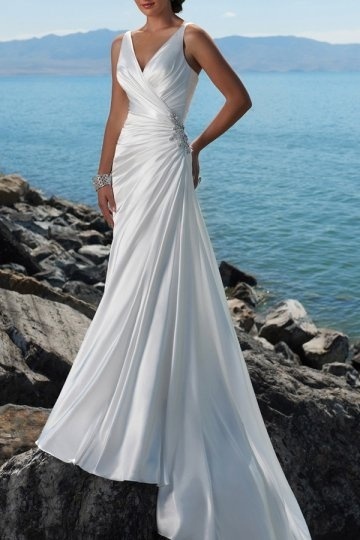 For a beach wedding it is better to wear beach sandals.  Shoes and hosiery will be difficult to use in the sandy beach. Simple jewelry will definitely add the simplicity of the wedding function. People generally prefer beach wedding to reduce the cost of wedding and also to add a new dimension for the function just to deviate from the old traditional wedding function. So, to add more innovation, find out those things that are simple, rare and memorable. The theme of a beach wedding will always revolve around casual and simplicity. Even though how simple is the wedding the importance of wedding dress always paramount in the function.  There are varieties of options that can be seen when the wedding dress selection is concerned.
While selecting wedding dress that is meant for a beach wedding, it is better avoid long gowned wedding dress. It is also advised not to go for dresses with long trail.  There are dresses that are specially designed for beach nuptials. It would be ease up the efforts by visiting show rooms or online stores that are offering lot of choices that may go along with your preferences. Further, it is a good idea to scavenge through various bridal magazines and prepare a list of silhouettes. Light weight wedding dress, without boning and heavy beading is always good for beach wedding. The dress should match with your body style.  The dress must be able to carry your elegance.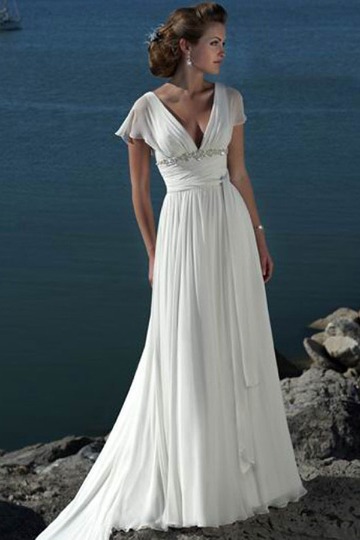 Advance preparations are an easy and relaxed way of wedding shopping. There are always situation like difficulty in finding the right choice of stuff that are being looked for. To avoid these kinds of frustrations, it would be better to carry the shopping list and whenever a right stuff is seen then do the shopping immediately. Wedding dress shopping with trusted friends are always a good option, so that their valued opinion can be considered before a decision is taken alone.